"Fridge seems to work normally. At least the freezer works well"- these explanations we hear pretty often from our customers. But the problem, obviously, is not in the low-quality of milk products. May be your fridge has failed and the temperature in the refrigerator compartment has become higher than necessary. In this case spoiled food become the first indicator of a malfunction.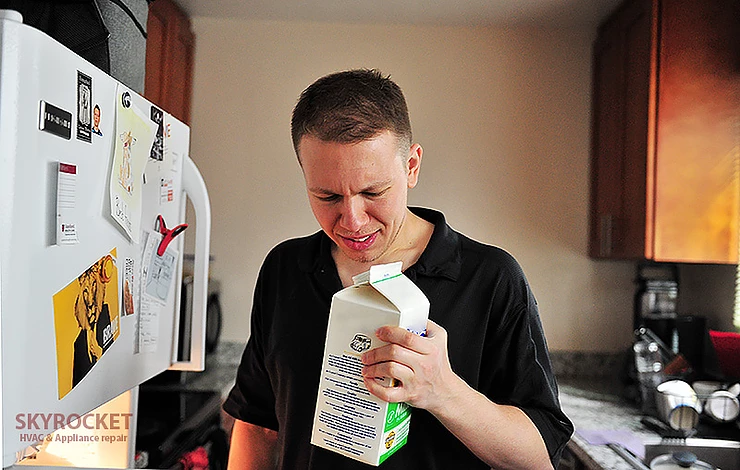 When the refrigerator compartment doesn't work you face with two serious problems which become more danger from hour to hour: fast spoiling food, which you have to throw out soon and increased wear of the refrigerator compressor. One broken part gets others a double or even triple load. Hurry to call appliance repair service – you can still save your food and… refrigerator. Till little breakdowns don't lead to more serious ones and more expensive repair.
Why freezer is cold but fridge is warm?
Do not get upset. Check first one malfunction that can be easily fixed without technical knowledge.Probably the refrigerator door is improperly closed, as something hinders it: a bottle, a saucepan, a plate. Simply remove this thing and wait a while till the temperature in the refrigerator is normalized. If the"frost coat" built on the sides of the refrigerator (because of a warm air that sucked from outside into the fridge and condensates), it is better to defrost it completely by turning power off from the outlet. Turn back the power and wait 24 hours to make refrigerator back in cold.
Troubleshooting of the warm refrigerator and repair cost
Some breakdowns in the case when the refrigerator compartment is badly cold have a number of symptoms.
Evaporator fan motor doesn't run
Evaporator fan in standard refrigerators is located in the freezer evaporator and pull cold air from freezer to the refrigerator compartment. Check how the fan works by yourself. Open the door of the freezer, push door switch(es) by hand to imitate a closed door and wait when fan will start operating. Do you hear specific blade turning sound? Or nothing happens? Evaporator fan motor probably needs to be replaced. Do not wait long and call appliance repair company to double check. Average evaporator fan motor replacement cost $225
Circulating air fan motor doesn't run
In refrigerators with a circulating fan in the refrigerator compartment, this fan may freezes for some reasons. Accordingly the cold air is not circulates and the temperature doesn't drop to the necessary value. In some standard models of refrigerators, like Amana, GE, Kenmore and Whirlpool, in all old types of refrigerators air circulating fan is not present. LG, Samsung and other new type "upgraded" refrigerators circulating air fan issues are very common.
You can discover the fan has frozen by a specific chirping or rattle sound. Usually right fan runs quiet, barely audible. You can temporarily fix it by yourself: make full defrost for at least 10 hours by turning power off. This time is enough to clean the fan from ice and than turn may not be enough for ice to melt in all the internal cavities of the refrigerator. Nevertheless service diagnostics by professional is needed. Technician will check condition of the fan and replace it if its necessary. Average circulating fan motor replacement cost $225
Refrigerator compartment compressor has failed
For some built-in refrigerators as GE Monogram, Sub Zero and others commonly use separate compressors for each compartment: freezer and refrigerator. Bad refrigerator compressor doesn't involved for functioning of freezer compartment. Bad refrigerator can be the reason of temperature increase while freezer is still freezing without changes.
In any case inspection of the compressor by professional appliance repair technician is required. Technician will make a pressure test to make sure the compressor runs properly. Average compressor replacement cost $650
Start relay of refrigerator compartment compressor burned out
Compressor with start relay issue has exact the same visible and audible signs of malfunction as broken compressor. All you read above does apply to bad start relay also. But differences between start relay replacement and compressor replacement are huge: compressor replacement cost at least five times more expensive, difficult and longer.
You may feel some burnt wire smell or plastic, that common for shorted start relay, but it is not necessary. Such a breakdown occurs as a result of the natural wear of the unit. Average start relay replacement cost $185
Condenser fan motor of refrigerator compartment is not turning
Without working condenser fan motor compressor starts overheating and refrigerant inside seal system rapidly looses its cooling possibility. As we know no cold – no refrigerator. However the problem can be easily fixed by professional repair tech at same day. If you've diagnosed condenser fan failure, immediately turn the fridge off before technician will arrive and save the compressor from failure.
Do not wait until the refrigerator will completely stop working. Call Skyrocket HVAC & Appliance repair (669) 244-4488 and get technician to make your fridge work again.
Skyrocket HVAC & Appliance repair repairs all types of refrigeration systems, residential refrigerators, wine coolers, ice makers, chillers, commercial refrigerators and etc.
Lets be friends!
NOTICE: The prices are very approximate, indicated only for the work and parts without taking into account taxes and possible additional fees that may occur during the diagnostics. You get full estimate before job will start and needs to be approved by your sign.